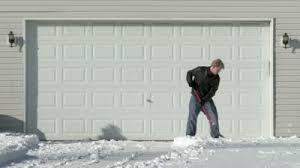 The garage door is the main access point to the home for more than 70 percent of homeowners, and as the Winter weather approaches, it's important for homeowners to ensure the operation and safety of your household's main point of entry.
First United Door provides some helpful tips to ensure your garage doors are ready for Winter.
Weather Stripping
Check the weather stripping around the garage door to ensure it is keeping out the cold air, and replace any damaged or missing seals.Clean the weather stripping with a good all-purpose cleaner. Lubricate it every 2 or 3 months with a SILICONE-based lubricant. Never use a petroleum-based lubricant on weather stripping as it will dry up and crack. Don't forget the weather strip between your door panels. It is important to let your weather strip hang 1/2″ below the door base when you readjust your perimeter weather stripping. If the weather stripping is too tight, the door will not function properly. So if your weather stripping has lost its flexibility, it is best to replace it.
Maintaining the Hardware
Older garage doors can malfunction in the cold weather, so garage door maintenance and inspections are even more important during the Winter months. Metal parts of a garage door can contract during cold weather, which can lead to broken springs and other issues.
Homeowners should use a garage door lubricant on any moving parts. Lubricate the rollers, tracks and hinges and all moving hardware parts with a little motor oil (e.g.: 10W30) every three months. Wipe off excess oil with a cloth. As for the springs, use the same oil applied with a cloth. You are not only prolonging the spring's life, but also reducing the noise the springs make when the door is operated.
Keeping it Clean
Clean your garage door regularly with mild soap, such as car detergent, and a soft bristle brush. Avoid using abrasive cleaners and very strong liquid cleaners which could damage the paint or cause delaminating. If you have a steel garage door, you can revive its luster by applying a car wax as it will protect against acid rain and dust. It is best to avoid waxing in direct sunlight to achieve better results.
Open Sesame: The Garage Door Opener
Depending on the model you own, consult the manufacturer's guide. If you want to add some white grease on the operator track, again you must first clean the track. By oiling all the mobile parts you will reduce the noise initiated by the motor. If it is still too noisy for your liking, then nylon rollers would help reduce the noise.

Pull on the trolley release cord and operate the door manually. Is it difficult to open and close? The electric operator only replaces manual operation, therefore it must move freely. If you have trouble operating it, contact your local l qualified and licensed garage door installer. For your safety as well as your child's, check the automatic safety reverse system of the door opener every month.
 Get Your Annual Exam
Consider your garage door as an important part of your home. With appropriate annual maintenance, it will operate beautifully.
Ask a qualified and licensed garage door installer to lubricate and adjust your garage door at least yearly. In a 10 step check-up, they will check the following:
– the sturdiness and adjustment of the hinges;
– the rollers for worn-out ball bearings, flattened rollers, and crooked rods;
– the tracks for premature wear and tear, loose bolts, and loose supports;
– the cables for wear and tear; especially near the pulleys and the lower support (corner bracket).
With these helpful tips, homeowners can ensure their garage door is safe, functional and secure well through the winter.